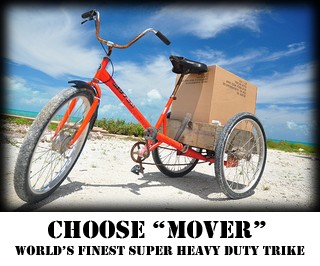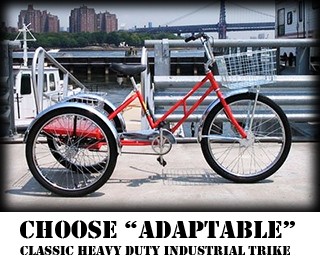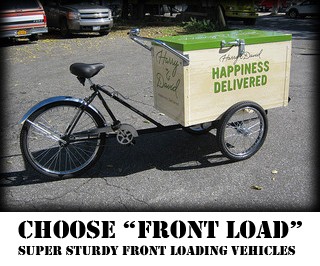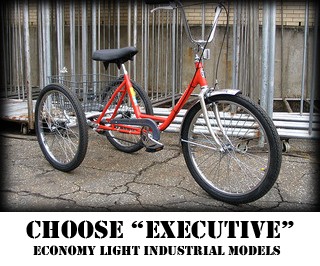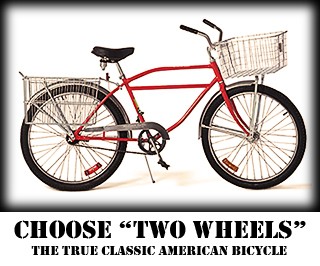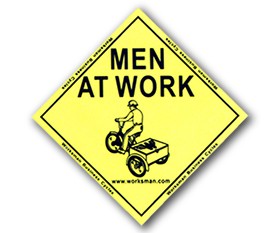 ---
We Invented An Idea In 1898...
...That's STILL Ahead Of Its Time:

The Worksman Industrial Cycle.
When Morris Worksman established Worksman Cycles in 1898 his belief was that a well designed three-wheeled cycle - a tricycle - could replace the horse and wagon by providing a less expensive and more reliable way to move products. Morris Worksman's vision was correct. Today, although the horse and wagon has been replaced by modern technology, the reasons to use industrial cycles are as sound as they were 100 years ago: efficiency, reliability, and healthfulness. And the reasons to specify Worksman are as equally sound as when we opened our doors in 1898, because we have never strayed from the founding principle: Build every Worksman Cycle for the long haul, thus providing enduring value. Has this philosophy stood up to the test of time? Consider this. Although we were not the first, nor nearly the largest producer of cycles in 1898 when we opened for business, this commitment to quality and value has allowed Worksman to become the largest producer of industrial cycles in the world today. ***Download the complete Industrial & Business Cycles Brochure***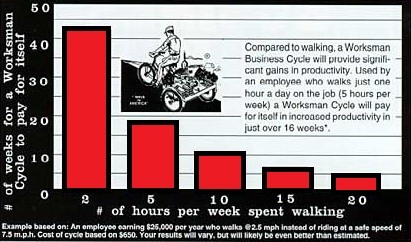 Welcome to the world of Worksman Cycles. On these pages are featured some of the finest products in the world today. Built to last, built to keep delivering exceptional value, built to make your company a more productive and enjoyable place to work. And even when the shiny and new cycles pictured here are chipped and dented from years of use, they will still look beautiful to the eyes of the wise manager who chose Worksman and who recognizes the beauty of enduring value and classic, time-tested craftsmanship. Worksman Cycles are always built to last.

"Our Goal Is To Bring A More Efficient, Reliable, and Healthful Transportation System To Modern Industry." -Morris Worksman, circa 1898

Increased fuel costs, stringent workplace environmental regulations, skyrocketing health care costs, and the need to minimize operating expenses all point to one sound decision: replace your workplace fleet with no fuel, no fumes Worksman Cycles. Compared to fuel-powered vehicles, Worksman Industrial Cycles will dramatically cut fuel and maintenance costs while making your workplace greener and healthier. Compared to walking, Worksman Industrial Cycles will dramatically improve productivity (see chart below left.) Since 1898 leading corporations and government agencies have relied on Worksman. While the problems they seek to alleviate have changed, the reason they rely on Worksman never has. Simply put, Worksman Cycles are amongst the finest products available in the world. It begins with our commitment to "sweating every detail" and not resting on our reputation. Each day we start anew in our quest to make the most reliable, most durable, most value-loaded product we can. Our philosophy has always been that on equipment that must perform day after day, there are no small details. Every part of a Worksman Cycle, from the hand-welded frame to the industrial clincher rims to the tiniest ball bearing in our hubs, must meet just one standard - "Worksman Tough". Never will you hear the words "almost" or "good enough" spoken at Worksman.