Amongst our most famous products were the original Good Humor Ice Cream Tricycle. Seen in neighborhoods throughout the country with the "Ice Cream Man" jingling his chime bells surrounded by kids, these classic cycles were such an integral part of "Americana". Our legacy also includes the Admar line of Hot Dog Carts, the very first manufacturer of all Stainless Steel Carts. Admar Carts appeared on almost every NYC street corner for several decades.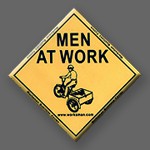 Scroll down to shop from our world-famous selection of hand-made, stainless steel:
-Hot Dog Carts
-Ice Cream Tricycles
-Pushcarts
-and much more!
For more information on our complete line of vending equipment, including custom jobs, visit...
Get the flash player here: http://www.adobe.com/flashplayer
Today we make a complete selection of mobile food vending equipment. Many well respected international food companies utilize our carts for street vending, sampling programs, brand building, stadium vending and much more. Please call us at 800-Buy-Cart to discuss your requirements for carts, trailers kiosks or trucks.
---
Worksman Ice Cream Tricycle V-ICT
$2,299.00
V-ICT
We started manufacturing the classic Worksman Front Load Ice Cream Tricycles more than 75 years ago when the Good Humor Company was first established and looking for methods to get their products out to the neighborhoods they wanted to serve. Since then, these classic vehicles have become a part of American culture. Remember the jing-a-ling of the ice cream bells as the local "ice cream man' rode through your neighborhood? Well chances are, he was riding a made in New York City Worksman Tricycle. These cycles are super durable and naturally require no fuel, emit no fumes and are fun to ride. The front cabinet on the model V-ICT is an insulated stainless steel box measuring 36x23x28" on the outside, thickly insulated with a snap shut air-tight 10x10" door. A dry ice shelf is located inside the cabinet for convenient loading of dry ice. A handy exterior compartment is standard for storing napkins or other items. Using dry ice, these vehicles are ideal for vending pre-packaged novelty ice cream. All Dry Ice models come with a drain for easy interior cleaning. Today, Worksman Ice Cream Tricycles are in use in the USA, Canada, Australia, Europe, Asia and Africa. Whether you are seeking a single ice cream trike to start a small business or require a fleet to expand your business, call us at 800-BUY-CART (outside the USA Call 718 322 2003) so we can assist you in planning your purchase. Freight is additional. Note- The V-ICT shown is equipped with optional welded mag wheels.

Worksman Ice Cream Trike Model V-IT-S
$2,149.00
Same as model V-ICT, except the door is a removable flip style door measuring 20x10". This door style is appropriate for pre-packaged Novelty Ice Cream or scooping (Keep in mind the door opening size vs. your bulk pack containers to make certain that scooping will work in this configuration). Includes a Napkin/storage compartment by handlebars.We only install Dry Ice Shelf on V-IT-S if customer so desires and specifies. GREAT FOR SAMPLING PROGRAMS.....used by some of the leading beverage companies as means of promoting drinks in a unique, stylish way. Freight is additional.

For more detailed information about our ice cream pushcarts and tricycles, including operating tips, please visit 800-BUYCART.com.


Worksman Ice Cream / Italian Ice Tricycle- V-IT
$2,169.00
Same as models V-ICT and V-IT-S except the Door is a large removable flip style door measuring 20x20". This model is most often used for scooping Italian Ices or Ice Cream. Also great for bottled beverage sales. Includes a Napkin/storage compartment by handlebars. The Model V-IT does not include a dry ice shelf. hold appx 12 2.5 gallon tubes (6 over 6) Freight Additional. Another Worksman Cycles American Classic


Worksman Ice Cream VendingV-ICP Pushcart
$1,899.00
V-ICP
Same cabinet as on our V-ICT Ice Cream Tricycle but mounted onto a pushcart chassis. Featuring 8 cubic capacity and a single snap shut 10"x10" thickly insulated door. This classic cart which we've made for companies including Good Humor for over 50 years, is designed for use with Dry Ice (Shelf included on inside of cabinet) to vend pre-packaged Ice Cream Novelty products. Includes a Napkin/storage compartment by handlebars. Approximate capacity 30 Dozen. Ships via truck freight additional

Worksman Ice Cream Vending V-IPS Pushcart
$1,749.00
This is the pushcart version of our V-ITS Tricycle. Same 8 cubic foot insulated stainless steel cabinet mounted onto the famous Worksman pushcart chassis featuring WTC 20" side wheels with Nev-r-fail solid rubber tires and locking front caster. Includes a Napkin/storage compartment by handlebars. This pushcart is designed for use with Dry-Ice to keep Ice Cream Novelties (appx 30 dozen) ready to serve all day. Door opening is 20x10" (Removable flip top door). Freight additional. Image shown is model V-ICP which has snap-shut door.. V-IPS has rectangular, 20x10" removable flip-top door opening.

Worksman Ice Cream / Italian Ice V-IP Scoop Pushcart
$1,779.00
V-IP
Same cabinet as use on our V-IT Tricycle, this pushcart features an 8 cubic foot stainless steel insulated cabinet with large 20x20" flip top door. Ideal for vending Italian ice or other "scoop" products.Includes Exterior compartment by handlebars useful for storing napkins, cups, etc. Depending upon what you are vending, you may not require dry ice. Chassis features exclusive WTC clincher wheels with Nev-r-fail solid tires, locking front swivel caster. Will hold 12 2.5 gallon tubes (6 over 6). Also outstanding for bottled beverage sales.

note--the VIP comes with the same napkin box as shown on model V-ICP (standard on all 8 cubic foot cabinets) shown on V-IP is an optional extra large storage cabinet. Call 800-BUY-CART should you have any questions)

For more detailed information about our ice cream pushcarts and tricycles, including operating tips, please visit 800-BUYCART.com.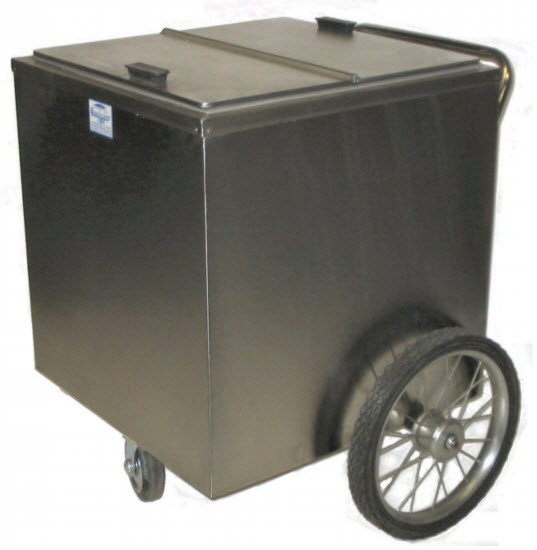 Worksman Ice-Cube -Ice Vending Cart
$1,350.00
V-ICUBE
The Ice Cube is a small sized Ice Cream vending Cart ideal for those vendors who seek a light weight cart that is very easy to push and small to store. The Ice Cube is ideal for scooping ices. Exterior cabinet size is 25x25x25" featuring an all high quality, non-magnetic stainless steel, a 20x20" flip top door and two inches of insulation on the side walls and top. 16" side pushcart wheels with a front caster. Ideal for events such as parties, catering, etc. Depending upon length of time you intend to vend, you may not need dry ice. We do suggest that the purchase of ice cream carts or other vending carts be discussed with our sales department to make sure the selection is correct for your application, PLEASE CALL US AT 800 BUY CART (Outside the USA call 718 322 2003)


Worksman Ice Cream Mechanically Cooled VM92IDP Puschart
$4,299.00
VM92IDP
The VM92IDP is the answer for those with no access to dry ice. This 8 cubic foot vending cart works by plugging it into a standard outlet and charging for approximately 12 hours and then will keep product frozen when unplugged for 5-10 hours (depending upon outside temperature, door openings, products, etc. This cart comes with a 20x20" removable flip top door and umbrella. Standard wheels are 26" WTC Welded Side style with Worksman Nev-r-fail Solid Rubber tires. Freight additional.

Chime Bells for Ice Cream Sales#5400
$89.00
Note----August 2012---Ice cream Chime bells are temporarily out of stock.

Remember the charming sound of the Good Humor Man's Ice Cream Bells? You'd hear the distinctive ring-a-ling of the chimes as the Ice Cream Man approached in his truck or tricycle and run for you change prepared to make that purchase! Worksman Cycles still offers those very same authentic "Good Humor" Style Brass Tuned Ice Cream Chime Bells. So whether you need bells to attract a crowd to your ice cream business or simply want a great sounding set up bells for another purpose, you can own a set of these classic bells. (Rear Bracket section shown is for example only and not included).

Worksman V150P Party Hot Dog Cart
$2,399.00
This scaled down version of our industrial street vending cart is ideal for parties, catering, rentals, corporate events or even for the special backyard. Built with the same quality that has made Worksman the leader in mobile cart manufacturing, this very affordable hot dog cart turns any event into a festive occasion. The V150P is also small enough to fit through most doorways and easy to transport. Features: Large 14 quary capacity Hot Pan with integrated hinged cover, Protected Sterno Heating Area, Classic New York Mustard Pot with dip stick, Full Length Stainless steel shelfs on either side, Bun Showcase with Sliding Doors, Lower Storage Compartment with Door, 20" Side Bike style wheels & Swivel Caster with solid tires, Hot Dog Umbrella and one thing you can't get anywhere else...AUTHENTIC NEW YORK CITY STYLE....after all, that's where it is born. 25.5"W x 36"L x 46"H. 120 Pounds. Ships fully assembled via truck.

Popcorn Cart
$1,099.00
v-2660GT/V-2659CR
You've seen this classic antique popcorn cart everywhere...parties, catering halls, restaurants, stadiums, shopping malls and theatres. Now you can own one for your home. Make your home media room or business into an even more special place by adding this authentic cart.

The industry's original deluxe 6 oz. popcorn machine mounted on an attractive red cart with gold trim. Features include welded top and bottom frame, bright aluminum finish, tempered glass and the famous E-Z Kleen Kettle. Heavy-duty reinforced top dome and side vents.

Ships economically via UPS

Umbrella for Pushcart or Patio
$119.00
Authentic Pushcart Umbrellas with bottom poles as used on famous Worksman New York Carts are ideal for both commercial and residential use.

These 6.5 foot diameter vinyl umbrellas are avaialble in a variety of color choices and some are even imprinted for popular food items. Whether you currently have a puschart and seek a new umbrella, a restaurant which requires table umbrellas or want a classic umbrella for your outdoor furniture, these economical, sturdy and attractive umbrellas are a great choice. Umbrella have 1.5" diameter aluminum pole and include bottom slide in pole section.

---