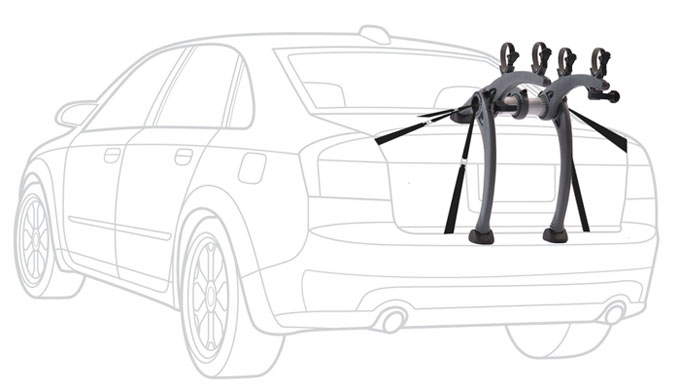 SARIS Bones 2-Bike
$125.99
There is a place where function and form collide. Where practical becomes practically gallery–worthy. And this is the place where the Bones rack was conceived by Saris and famed designer Fabio Pedrini. Awarded 4.5 out of 5 stars from Bicycling Magazine, Bones has proven that it's more than just another rear–mounted rack. It's a tested statement of style, design, convenience and durability.

An efficient bike rack needs be more than just a way to transport your bike from Point A to Point B. It needs to be easy to use, easy to install and easy on two of your most prized possessions--your bike and your vehicle.

-Injection–molded arms and legs are the strongest on the market.
-Built with 100% recyclable, non–rusting materials.
-Ratcheting anti–sway straps secure and stabilize bikes.
-Arc–based design fits over most spoilers and separates bikes on different levels.
-Patents issued and pending.
-Available in grey.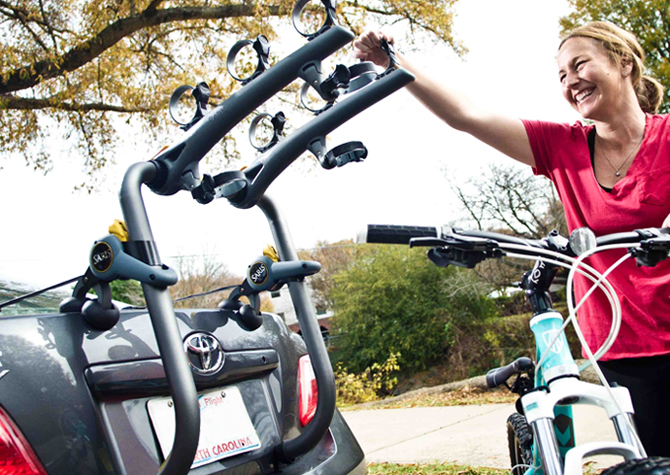 SARIS Bones RS
$269.99
At Saris, we love biking. It's part of everything we do which is why we've gotten so good at identifying and meeting the needs of other people who love biking. In the process, we designed the Bones RS.

It was created to meet our needs — the needs of a company full of busy biking families. So when we tell you that Bones RS will meet all of your bike transport needs, we know it's true. It looks good, works well and is built from quality materials right here in Madison, Wisconsin.

-Ratcheting system eliminates straps and fits a wide range of vehicles, from sedans, to mini–vans.
-Rubber–coated clips and steel–belted bands secure the rack to your vehicle.
-Pivoting anti–sways and hold–downs easily adjust to secure your vehicle.
-Integrated locking system adds security.
-Easy to load up to 3 bikes.
-Designed for a family of bikes — from the smallest to the biggest.