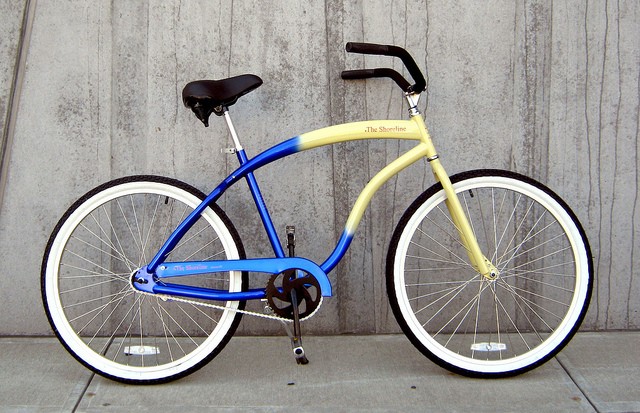 "Atlantic Coast Cruiser" (tm) Bicycles are today's choice for those who seek the simplicity of single speed coaster brake bicycles as well as rust resistant features. The Atlantic Coast Cruiser series provides the comfort and simplicity of cruiser riding along with so many rust resistant features all at a great price. All Atlantic Coast Cruisers come with heavy guage stainless steel spokes, alloy rims, alloy front hubs, aluminum seatpost with quick adjust feature, Rustbuster(tm) Chain, thorn resistant tubes, headset with seal, aluminum kickstand and much more. These bikes are ideal whether you are riding in the city or in a seashore environemt. Many of our customers have ridden Atlantic Coast Cruisers at vacation resorts where these are very popular for rentals. Note, Atlantic Coast Cruisers are wonderful bikes, imported exclusively by Worksman Cycles.For those interested in American Cruisers, please visit the Classic Cruiser Design your Own page for authentic, Built In New York Worksman Cycles.
Atlantic Coast Cruiser Bicycles ship via UPS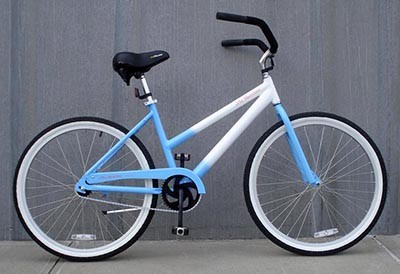 ACSC - Atlantic Coast Shoreline Cruiser
$359.00 $319.00 On Sale!
New for 2013!!! Unisex Compact Aluminum Easy Step Through 17" Frame, Two Tone Powder ble/White design, Aluminum Rims, Stainless Steel spokes, Shimano Coaster Brake, White Wall Tires, Aluminum Quick release Seatpost, Rust-Buster Chain (TM), 26x2.125 White Wall Tires, Foam Handlebar Covers, Aluminum Handlebars and Zoom Stem, Coated Crank and sprocket


ACA Atlantic Coast Cruiser Bike Mens
$249.99 $229.99 On Sale!
Atlantic Coast Adult Men's Cruiser Beach Bicycle: Mens Style Cantilever frame (17.5') with 26x2.125 wheels. Color Choice(Black/beige two tone, Process Blue/tan two tone, Process blue)--Please specify below when ordering Note... Atlantic Coast Cruisers are imported bicycles.

ACAL Atlantic Coast Cruiser- Lady Beach Bike
$249.99
Atlantic Coast Adult Cruiser Bike- Ladies frame(16") 26x2.125 wheels (Colors now in stock--Powder Blue and White Two tone Or Teal and white two tone. Please specify when ordering).

NOTE: Atlantic Coast Cruisers are imported bicycles.



ACA-Dura Atlantic Coast Dura-Bike
$279.00
Atlantic Coast Adult Cruiser Bicycle in safety yellow color with resin fender set (new for 2007--Black-wall tires--not white-wall). Great Bike for those having summer homes in seashore communities--extremely Rust resistant! Style, comfort and great for tough environments..an amazing value for sure! Note; Atlantic Coast Cruisers including the Dura-bike are Imported bicycles.

---